Geek Central Station: Crochet R2D2 Pattern!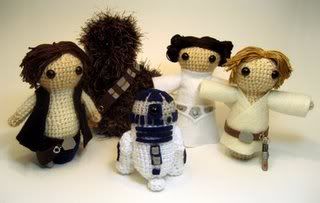 I adore all of Geek Central Station's elaborately costumed and accessoried dudes, so of course I had to share the R2D2. It's not her pattern, that honor belongs to
dorfmunder
from whom you can purchase the pattern, but it was made to scale with Geek Central Station's dudes. So awesome!
I'm not sure if I can pull off cutting the felt so small myself with my hands being shaky as they usually are - at least if I want to keep fingers and what's left of my sanity - but I imagine if I ask super-sweetly by darling hubby will help. Or I may have a good day. Regardless, I suspect part of my birthday money (you are NEVER too old for birthday money) will be going to buy this sweet pattern.